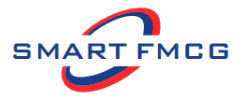 SMART FMCG Group of Companies takes confidentiality issues of the data provided to us very seriously and asks you to familiarize yourself with how and for what purposes we collect, use and disclose personal information.
1. What information do we collect?
We only collect personal data that you voluntarily provide to us. The collection includes basic personal data such as first name, last name, email address, contact phone number, as well as some additional information, such as cookies, network connection data and system information.
2. For what purposes do we use the collected data?
Personal data is used only for the purposes for which they are provided to the company GC «SMART FMCG». The processing of personal data is carried out in order to:
processing ordered goods and services;
conclusion and execution of contracts with clients and counterparties;
informing customers about new products, special promotions and offers.
This information can also be used to provide support and feedback at the consulting level on the company's products.
3. Where and for how long do we store personal data?
We store personal information in the company's databases only as long as it is necessary to answer inquiries or solve problems, provide customers with information about promotions, new products and services of the company with the client's consent to receive such information, and in accordance with the requirements of the law. After a certain period of time, personal data is deleted from all systems of the company GC «SMART FMCG», upon liquidation or reorganization of the company, and can also be deleted at the request of the client at any time.
4. How can I find, change and delete my personal data?
You can request the deletion, correction or verification of personal data by sending an email or letter to the address indicated at the end of the document, or by calling or contacting an online consultant on the website. Upon receiving a request to change personal data, we may ask the user to verify their identity.
5. What data and for what purposes do we provide third parties in other countries?
We do not transfer personal data to companies, organizations and individuals who are not members of the SMART FMCG Group of Companies, except in the following cases:
To process customer orders on behalf of SMART FMCG Group of Companies and to ensure the functioning of this website (for example, delivery services and Internet providers). Our business partners must ensure the same levels of protection of personal information as SMART FMCG Group of Companies, and, if necessary, sign agreements that impose appropriate legal obligations regarding confidentiality and protection of personal data.
At the request of government agencies. If we are forced to do so in accordance with the requirements of applicable law and when it is necessary to ensure the safety, protection of the rights of the company, its customers and society in general.
Anonymized data may be shared with all of our partners, including advertisers and linked sites. For example, to illustrate sales statistics. SMART FMCG Group of Companies is an international group of companies, therefore, personal data may be transferred outside the state or jointly used by companies belonging to SMART FMCG Group of Companies located in different countries, only for the purposes for which this information was provided by you.
6. What measures do we take to protect personal data?
When processing personal data, SMART FMCG Group of Companies takes the necessary legal, organizational and technical measures or ensures their adoption to protect personal data from unauthorized or accidental access to them, destruction, alteration, blocking, copying, provision, dissemination of personal data, as well as from other illegal actions in relation to personal data. Security is achieved by:
restricting access of employees of SMART FMCG Group to personal data using internal organizational and technical measures;
signing agreements on confidentiality and protection of personal data with our partners and service providers;
maintain an appropriate IT environment and take all measures necessary to prevent unauthorized access (hacking).
7. What do we use cookies for?
We may add tracking technologies (cookies) to your device to improve this website to meet the needs of its visitors. We use cookies to collect personal data such as browser type or operating system, referring page, website path, internet service provider domain, etc. in order to obtain general information about how the website is used by visitors. This information does not imply identification of a person, it will not be available to the company GC «SMART FMCG» after the end of the session of your device, it cannot be disclosed to third parties. If you are not sure whether you need cookies, you can opt out of using cookies in your web browser settings, however, in this case, you may not be able to access some of the functions of this website.
8. Why do we recommend that you accept the terms of this policy?
Our privacy policy provides all the information you need to make an informed decision about the advisability of transferring your personal data to us. By visiting this website and interacting with us, you acknowledge the possibility of processing the provided personal data and additional information (including cookies, connection data and system information) and agree to their processing in accordance with the principles set out in this Policy … We may make changes to our policies that will be reflected on this page. If you have any questions about the text of this document, please contact us using the contacts listed below.